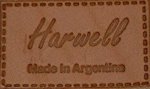 Harwell Trading Co.
handmade leather handbags are imported from Argentina. Argentina is
internationally recognized for its high quality leather. The craftsmen devote themselves to
find the optimal way to best combine materials and artwork. Each piece is the result of endless
dedication, and is filled with the sensibility, magic and originality characteristic of handmade
crafts. The experienced and confident hands of the craftsmen carry out a long process to
the end, looking after each detail to get a product that reveals the innovative spirit of
Harwell designs.
Items [1]